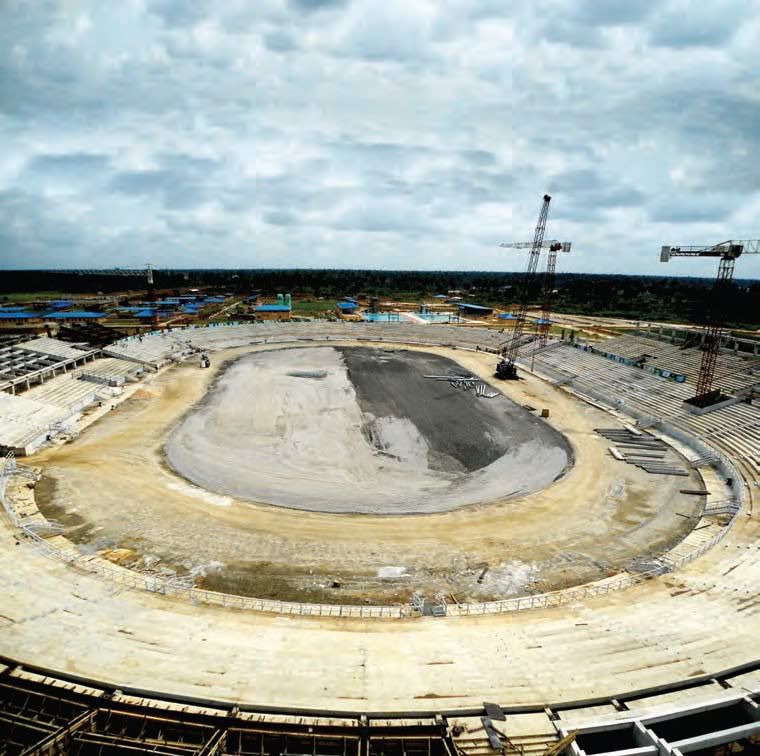 "Chibuike Amaechi of Rivers has approved the award of contracts worth N15 billion for the construction of a sports complex in Port Harcourt.
The Commissioner for sports, Mr Boma Iyaye, told the News Agency of Nigeria (NAN) in Port Harcourt on Tuesday that the stadium would be cited at greater Port Harcourt City.

The State Government had given approval to build a new city known as greater Port Harcourt City to decongest Port Harcourt.
Iyaye said the new sports complex would be used for the 17th National Sports Festival, tagged ''Garden City Games'' to be hosted by the state in Nov. 2010."
http://www.triumphnewspapers.com/am24122009.html
Iv-Consult designs – "In association with Hollandia and Arcelor Mittal, Iv-Consult is designing a new sports stadium in the Nigerian city of Port Harcourt. The 'Sports Bowl' is part of the sports village called the 'Garden City Community Sports Centre' that is being financed by the County of River State. The village will house a complete range of sports facilities.
The Sports Bowl will be approximately 150 x 300 metres. The stands will be made of concrete and will be about 15 meters high. They will be covered by a steel canopy roof with a span of 40 metres and one support in the middle. The canopy will be made up of eight separate sections consisting of rhythmically positioned framework trusses and purlins. All parts will be bolted into place on site.
Transport, logistics and assembly of the trusses present a major challenge because many kilometres of steel sections and thousands of parts must be shipped from the Netherlands to Nigeria. The Sports Bowl is due to be completed in 2011."
Source: http://www.iv-groep.nl/en/news/11-nieuws/123-iv-consult-ontwerpt-sportstadion-voor-nigeria.html
Video below
http://www.youtube.com/watch?v=yxqwLWZSzDw
Brand New Sports stadium in Port Harcourt
Reviewed by
NG
on
7/25/2013 09:00:00 am
Rating: