Recently I read an article written as a critical opinion on the Evelyn Grace Academy in Brixton, London, UK which is pictured below: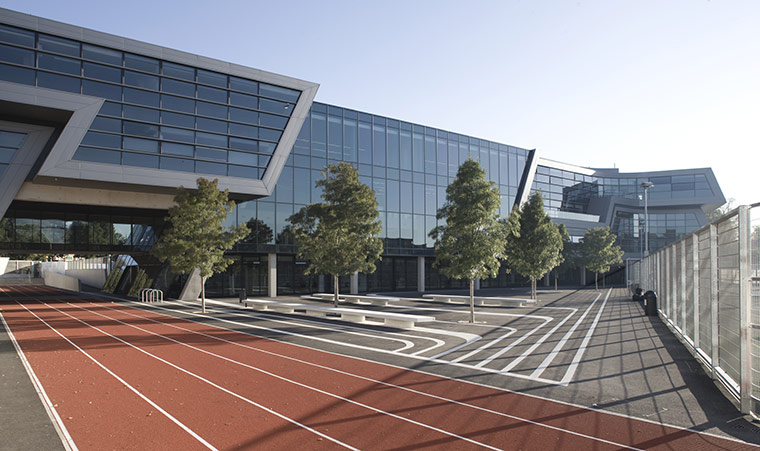 Photograph by Luke Hayes
Now, though here on Nigerian Architecture, I rarely discuss foreign or commercial architecture, this article probed enough of my interest to discuss it.
In summary, the UK's Education Secretary Michael Grove and columnist Toby Young, discussed the building drawing references between itself and the BSF (Building for Schools) initiative. They claimed that lavish academy designed by London Architect Zaha Hadid, was an example of money poorly spent and money sinked by Architects. Their claim was that this money would have been much better off spent on teachers, and workers that would actually improve the livelihood of the school and not the 'container' in which these different people would actually work in.
Now, we get to the topic of our debate, which is whether this is very true, or whether both Young and Grove have neglected once again like many before them, the importance architecture (and not just building) can bring to well-being, livelihood and performance.
Now this might sound self-righteous and biased, as this blog is dedicated to celebrating and discussing architecture. However, I invite you to consider it for a second or two.
Do you believe that architecture has no influence on how a person performs within a space, as paraphrased from the
Guardian's online website
; do you think our children can thrive in sheds?
Within the Nigerian context, many of us will admit that our building design considerations seem to have stagnated since the 80s and that many schools are in fact the basic rectangular block with no frills or fancy additions. I ask you, knowing that though many of us went to schools that were basic, were there common problems that arose that an effective solution in building could have rectified?
I for one remember the lizards that frequently entered the classrooms and would inhabit them, and would distract me during class, and the frightful story my own father told me of rats that would nibble at his feet when he was a student (which thank God I didn't have to experience), or the weather fluctuations which would severly make concentrating on my work a harder task. I don't remember daydreaming much, because there was really nothing to base any fantasy on, but I guess in Nigerian terms that is a good thing, as it implies that I was more focused on my work. I remember the ghost stories that were told about the 'eyes' behind the main hall curtains, if only I had known that there wasn't enough funds to upgrade the curtains, to fix the holes (or more accurately, it was no one's priority to do so). I can tell you many stories mostly ranging from mediocre memories, to recollections of someone else's experiences in a Nigerian school, however what I cannot tell you is an abundance of fond memories of primary school. I did however achieve a fantastic education, a combination of help from my parents and the sheer drive most Nigerian students have for learning and studying things.
I believe none of that was to do with the building, so to a great extent I do believe that you can achieve a great education from a basic school with great teachers, but when it comes to inspiring children to continue down that path, I believe that we need to improve the facilities of our schools, it is all well having a basic school as the foundation, but I also believe that there should be other amenities that can give children a broader education and a rounder view of what is ahead. The majority of Nigerian children, look up to doctors, engineers, lawyers and other high profile careers, but many go on to find that they are not suited for those roles and lose hope and have nothing else to fall back on. By increasing what they are exposed to as youths, I believe that you can inspire children to hope for more, to try harder and to try something different if need be.
The children at the Evelyn Grace Academy live in one of the most crime stricken places in Europe, but they have something to look up to as soon as they step onto the grounds of their school. The inspiration and awe is infused in them from arrival, and this makes an impact on them, it encourages them to believe that they are worth it, and so is their education.
Building for schools
Reviewed by
NG
on
6/04/2011 12:26:00 pm
Rating: